Have you downloaded our FREE mobile app?
Click on the icons below for more info!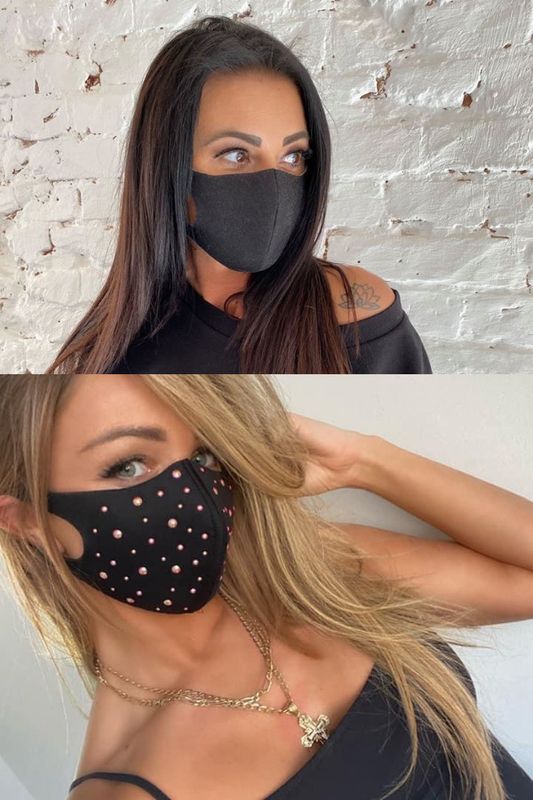 Face Mask
**UPDATE as of 9th April 2020**
Our shipment has left the factory and is in transit to our UK boutique. We expect it to arrive by Friday 17th April 2020 if not before (due to Easter weekend).
Available to Order
Our supplier in Europe is manufacturing these face masks which are available to order now!
USE CODE: SAVE30 on checkout to get 30% off making them just £7.99 each!
Features:
Triple Layer:
Made of CoolMax Polyester Material (Outer Layer)
Made of Polyurethane (Inner Layer)
Made of Viscose (Layer touching the face)
Machine Washable at 60°C
One Size Fits All
Optional Studs
Free Delivery (5-7 working days)
We place a bulk order to our supplier every week on Wednesdays and we receive shipments the following Friday.
As soon as we receive our shipment, we will dispatch to you the very same day.
Important Note to Buyers:
We do not encourage, force or suggest anyone to buy these masks. We respect everyone's opinion about the use of face masks.
Our masks are manufactured in Europe, not China.
Discounts are available for bulk orders.
1000pcs can be ready to ship from our manufacturer in Europe within 10 days.
Due to high numbers of orders, stock is changing daily. We are receiving regular orders from our manufacturer and therefore a short delivery time is quoted accordingly.
£11.41 GBP
View Facemasks
IMPORTANT CUSTOMER ANNOUNCEMENT
*** HIGH STREET BOUTIQUE TEMPORARILY CLOSED ***
Dear Customers,
Due to fast spreading Covid-19 virus, we have taken the measure to temporarily close our high street boutique to protect our customers, staff & their families.
We will re-open the boutique once it is safe to do so and will continue to operate as normal but for online orders only.
We thank you for your understanding and hope that you take any and all measures to stay safe and healthy during this difficult time.
Kindest Regards, Moni Boutique
30% off all online orders!! Use code: SAVE30
Welcome to Moni Boutique
We're an independent ladies fashion boutique & online shop offering totally unique, affordable & stylish fashion items not found anywhere else on the high street.
Open 7 days a week, our gorgeous boutique is located in the town centre of Bournemouth, UK. (View Location)
All of our items are carefully handpicked by the owner Monika Theodoris and typically come from Poland, Italy & Paris making them truly stylish.
Once sold, our items never return so if you see something you like, be sure to decide quickly!
The online shop stock levels are always in real time and linked directly to the boutique's till system.
If you order online, we ship the very next working day to anywhere in the world or you can choose to collect from the boutique 7 days a week.